Restless: An Evening of Worship & Prayer
Restless: An Evening of Worship & Prayer
Friday, March 16, 2018

Important: This event has already occurred.

7:30PM - 9:30PM
Sanctuary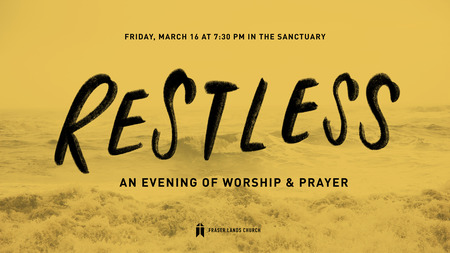 "You have made us for yourself, O Lord, and our heart is restless until it rests in you" (Augustine)
We invite you during this season of Lent to prepare your hearts for the celebration of Jesus' death and resurrection by joining us for an evening of extended worship through music & prayer.
Music invites us into a safe intimate encounter with God and prayer offers us space to reflect and contemplate the restlessness in our own hearts and God's invitation to find our rest in Him.
This event will be hosted in English and is open to all ages and congregations.
Come as a small group or fellowship, family and bring friends.
Dates: Friday March 16, 2018
Time: 7:30PM - 9:30PM
Location: Sanctuary
Available Files to Download
To download, right-click the file and select "Save link as".
Ministry Worship
Return to Events
---