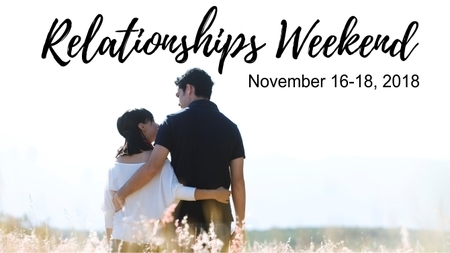 We held a Relationships Weekend seminar on November 16-18, 2018. We are thankful for Pastor Jim's sharing over the weekend and his focus on relationships and building healthy Christ-centred marriages. If you missed the Friday or Saturday seminar, you can view it below.
Friday Nov. 16, 2018
"Before You Say I Do"
Seminar Purpose: To establish and pursue God guided and God honouring decisions.
Speaker: Rev. Jim Penner
Notes: PowerPoint Presentation
Friday Session
Topics:
Singleness
What am I getting into if I marry, and if I don't?
Does God choose who I should marry?
Finding the "right one"
Healthy Dating
Intimacy Boundaries
Unequally Yoked
Traits to look for in a spouse
Saturday Nov. 17, 2018
"Now that You've Said, I Do"
Seminar Purpose: By God's grace, to establish and grow a Christ-centred marriage that brings glory to God through the way we love and the way that we live.
Speaker: Rev. Jim Penner
Notes: PowerPoint Presentation
Saturday Session - Part 1
Topics:
Definition of Marriage
God's Design for Marriage
God's "Reason" for Marriage
God's Purpose(s) in Marriage
Marriage as a Covenant vs. a Contract
Four Essential Elements of Marriage
Fair Marriage Expectations
Audio: Part 1
Saturday Session - Part 2
Topics:
Compatibility
Love
Communication
Audio: Part 2

Saturday Session - Part 3
Topics:
Communication
Commandments of Marriage Communication
Conflict Resolution
Money: The War Room
The Forgiveness Factor
Marriage Role Expectations
Growing Together Spiritually
Affair Proof Your Marriage
Why is Marriage So Hard?
Fruits of a Good Marriage
Advice from 250 Years of Marriage
About the Speaker:
Rev. Jim Penner
God's call in Jim's life has led him into pastoral leadership, as well as Bible teacher for conferences, seminars and retreats. He is passionate about seeing people's lives impacted and transformed by the Spirit of God, through the Word of God. Jim and Linda have been married and in ministry for over 40 years. They have two married sons and four grandchildren.
Life changed drastically for them 30 years ago when God challenged them the disabilities and suffering that come with debilitating health issues in Linda's life. They have a heart for encouraging and supporting those who suffer and devote much of their time to meeting with individuals, couples and families in crises. All for the glory of God.
Jim and Linda have enjoyed being in pastoral leadership for 40 plus years in Canada and the USA.